The Grand Lodge is pleased to announce the recipients of the Fraternity's annual awards. These awards were present to winners at the Leadership Summit on July 31 in St. Louis, Missouri. National President Adam M. Schaffer presided over the ceremony.

The awards program has existed in Theta Xi since the creation of the Memorial Trophy in 1939. Since that time, Theta Xi has expanded the recognition program to include additional chapter-level awards, based on chapter performance on the Annual Report for Accreditation.
Most notably, the men of Alpha Iota Chapter (Kansas State University) took home to the Memorial Trophy. This is the 18th time that Alpha Iota has won the Memorial Trophy in their history. This traveling plaque will be retired at Alpha Iota and a new trophy will be created for next year.
Additionally, the Fraternity recognized several individual brothers for their outstanding service to Theta Xi over the 2020-2021 year.
Brother Tyler Lecher, Alpha Epsilon 1542 (Nebraska) received the Barry Breen Award for Most Outstanding Undergraduate, in recognition of his service to his chapter and campus community.
Brother Craig Whitten, Alpha Zeta 658 (UCLA), was awarded the Dr. W. Turrentine "Turpie" Jackson Award for Outstanding Chapter Advisor. Brother Whitten received this honor for the second year in a row for his service to the Beta Epsilon Chapter at University of California, Davis.
Brother Richard "Rick" Szoke, Alpha Psi 358 (Missouri S&T) was recognized for his service as Outstanding District Director for his role in risk prevention for the Southwest District.
The Fraternity celebrates these brothers and all of our chapters for their outstanding work this year. An unprecedented number of chapters — 24 to be exact — achieved All True Men status!
Click here to view a full listing of all the 2020-2021 Theta Xi Awards.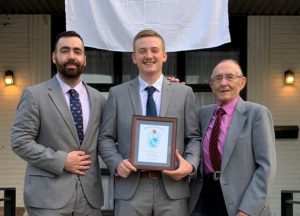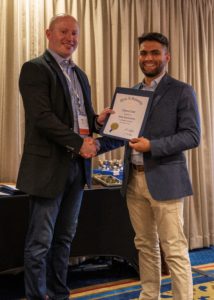 Pictured at left, the Brothers of Alpha Iota Chapter with their House Mother, Mama Rose.
Pictured above are Brother Justin Jennings, Tyler Lechner, and Marlen Luff (top, left to right);
and National President Adam Schaffer shakes hands with Brother Sam Luzzi from University of Rhode Island (bottom, left to right).